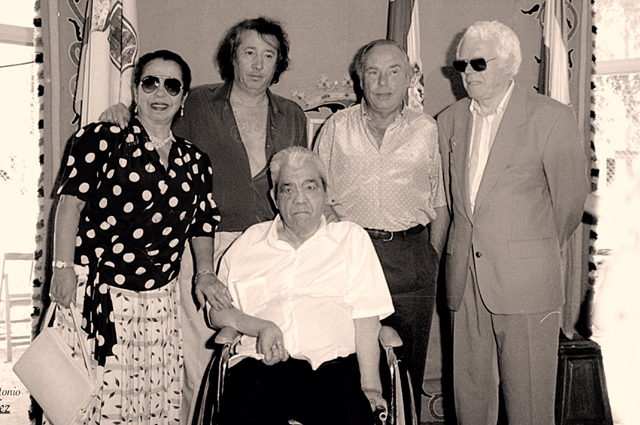 Utrera the home of Flamenco.
Utrera nestled between the Guadalquivir marshes and the Sevillian countryside, and to a half way between Seville and Jerez de la Frontera, is a town in which flamenco is an integral part of its people and forms a soundtrack to their lives. The Hotel- Palacio San Fernando offers its guests the opportunity to experience this flamenco culture.
Utrera, has provided flamenco a new way of singing "bulería, cantiña or soleá". Utrera has also produced a number of prominent flamenco artists, each of them with their own personal style. The list includes not only artists such as Fernanda and Bernarda, Curro de Utrera, Enrique Montoya , Pepa de Utrera, Turronero, Bambino but also a long list of flamenco singing dynasties like los Pinini, los Peña,los Perrates, los Cucharas, los Chamonas, etc.
Finally, Utrera gave rise to the so-called "Flamenco Festivals" as the first Flamenco Festival "el Potaje Gitano de Utrera was held in Utrera in 1956. This festival, the oldest of this kind in the world, is celebrated on the last Saturday of June every year. In the town of Utrera, you can also enjoy other local festivals, like El Tacón Flamenco, a dancing festival which is celebrated every year at the end of February or el Festival del Mostachón, organised by the peña flamenca Curro de Utrera , which takes places on the first Saturday of November.
On these special ocassions, the Hotel -Palacio San Fernando decks itself out in order to welcome all the Flamenco enthusiasts from all over.
You can enjoy flamenco in Utrera, not only in festivals but also during the Fair of Consolación , which is celebrated during the first week of September. Christmas is also a special time, with Christmas carols and "zambombas" as well as Easter week processions to the sound of the saetas and alboreá through the streets of Utrera until the small hours of the Good Friday, the night of the Gypsies.
Furthermore,Utrera offers you a flamenco programme in the theatre of Utrera as well as in the Peña Curro de Utrera.